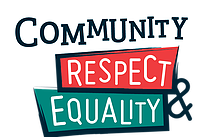 The Community Respect & Equality Project
The Community, Respect & Equality initiative aims to inspire, innovate and connect community leaders, sectors and service organisations, and government to work together on creative and sustainable strategies for the primary prevention of family violence in Geraldton. 
The initiative is guided by the CRE Action Plan (the Plan) which is made up of three phases that build up to the consistent whole of community approach required to affect lasting change to the accepted social norms, practices and structures that enable the prevalence of family violence. 
A Reference Group was established in 2016 with key agencies and representative bodies to provide high level community leadership for the CRE initiative and the Plan.  The Reference group continue to meet monthly and lead the implementation of the actions that sit within the Plan. 
As of November 2018, the current CRE Reference group organisations or businesses are:-
City of Greater Geraldton
Department of Communities
Department of Local Government, Sport and Cultural Industries
Department of Prime Minister and Cabinet
Aboriginal Family Law Service
MEEDAC (Midwest Employment and Economic Development Aboriginal Corporation)
Headspace Geraldton
360 Health and Community
WA Country Health
Women Inspiring Better Business
Ngala Mid West-Gascoyne
WA Police
Desert Blue Connect Inc.
Western Australian Centre for Rural Health
Mid West Ports Authority

Desert Blue Connect provides services in the areas of family violence, women's health, primary prevention, crisis accommodation for women and children and rural support services.
Sexual Assault Crisis Line: 1800 016 781 Toll Free

If you or someone you know is impacted by sexual assault, domestic or family violence – Call 1800 RESPECT (1800 737 732)
Get Your Strategic Action Plan
For Family Violence Prevention in Geraldton